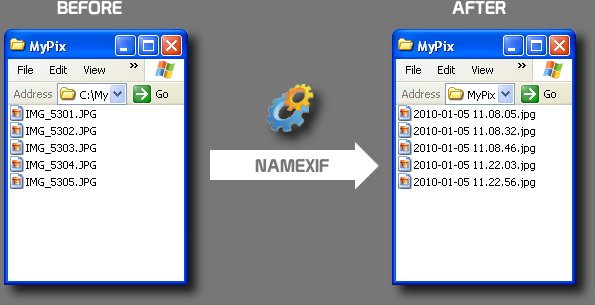 Description
Namexif is a tool to automatically rename photos with the date they were shot.
Digital cameras have their own clock and record the date to each photos with a precision of a second. Since the date and time is recorded for each photos (provided it is an EXIF compliant digital camera), Namexif is able to rename these photos according to the date.
Renaming photos so will:
make chronological order same as alphabetical one,
set a unique name to your photos,
synchronize photos from same event but taken from different digital cameras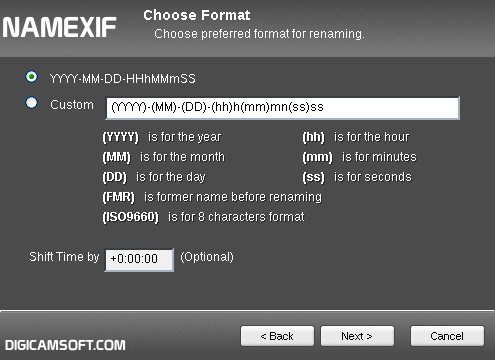 YYYY is for the year,
MM is for the month,
DD is for the day,
HH is for the hour (24h format),
MM is for minutes,
SS is for seconds
Download
Version: 1.7
Size: 442 Kb (less than 1Mb)
System Requirement: Windows 95, 98, 2000, NT, XP, Vista, 7, 8, 10
FAQ
Why does the name start with the year?

Namexif renames photos starting with the year, then month, day, hour, minute, second. Doing so keeps chronological order right when your file browser displays filenames in alphabetical order.

What if two or more pictures have the same EXIF date?

This can happen if, for example, your camera has a high speed shooting mode. In this case, you will end up with several photos having the same date. In such a case, Namexif will add a number to differentiate filenames with same date. For example, say you have 3 photos taken on August 15th 2007 at 6PM 5mn and 27 seconds:

2007-08-15 18.05.27.jpg
2007-08-15 18.05.27-1.jpg
2007-08-15 18.05.27-2.jpg

What if I select photos which have no EXIF data?

Photos or pictures without EXIF data are not renamed by Namexif. They keep their original name: no change!

What is the shift time by option?

It's a powerful function that allows you to adjust the EXIF time while renaming. It will not edit the EXIF data stored in the photo. It will only rename the photo including this tuning. This functionality allows you to synchronize different sets of photos or to adjust the timezone or even fix a wrong setup.

How does the shift time by option work?

The format is +H:MN:SS where H is for Hours, MN is for minutes, SS is for seconds. The sign can be negative. Examples:

+0:10:00 will add 10 minutes
+1:00:32 will add 1 hour and 32 seconds
-0:00:10 will subtract 10 seconds
-6:00:00 will subtract 6 hours

What is the eight characters format?

In order to burn a CDROM, you may require an ISO 9660 mode 1 file systems where filenames are in UPPER case and up to 8 + 3 characters. For this option, Namexif will compute how many seconds elapsed between EXIF date and 1/1/1998. This amount of time will be then translated into an hexadecimal base, allowing to map from 1/1/1998 to 1/1/2134.

Questions? Feedback?
Other Free Software
If you like Namexif, you may also like
HTTPhotos to create web photo galleries
.